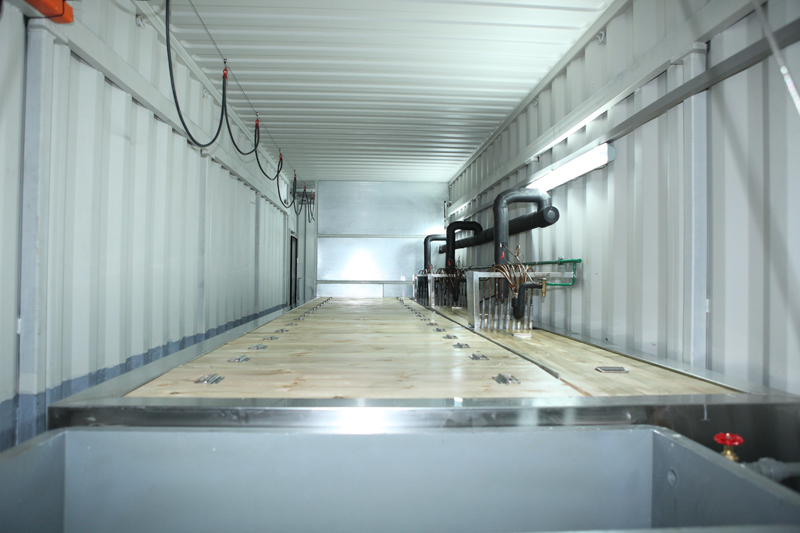 Block ice application
● Ice factory at ports or docks.
● Fresh preservation and cooling of aquatic products
● Fresh preservation of aquatic products and foods during line haul
● Temperature reduction and cooling in specific fields
● Ice sculpture
● Edible ice
Block ice features:
● High in density, hard and not easy to melt
● It can be used to make block ice in different colors
● Different weight such as 12.5kg,20kg,25kg,50kgkg,75kg,100kg and 125kg for your option.
● Clean and sanitary, without impurities
● Low temperature and -3℃ is reachable
● It can be processed into ball shape edible ice or small block ice
-Block Ice Machine Features:
● Stable and energy-saving design
● Unique and excellent evaporator technique
● Simple and convenient maintenance
● Experienced team of installation and commissioning
① Appropriative lifting device
② Reliable refrigeration unit
③ Simple operation of ice dotting device
Work conditions:
● All-in-one refrigeration systems.
● Specially-designed evaporator, with efficient thermal conductivity.
● Clean and sanitary block ice, suitable for human consumption.
● The refrigerant can be used globally, in line with national and international standards.
● Dry-type expansion reduces refrigerant quantity, makes the unit compact and safe and lessen breakdowns.
● PLC controls and self-protects from breakdowns during water filling, ice making and harvesting.
● Production capacity: O.5~1OT/24hrs, with block ice weight of 5kg, 10kg, 15kg, 20kg and 25kg.
● Shortest installation and commissioning time, loved by the users.
● Movable, transportable with truck and ship.
Containerized Aluminum-alloy Direct Evaporation Block Ice Machine

Model

Block ice size

mm

Block ice wright

kg

Production capacity

t/24h

Ambient Temp.

℃

Water Temp.

℃

Condenser Type

-

Necessary Refrigeration Capacity

kw

Power consumption

kw

Dimensions of Evaporator

L*W*H(mm)

New weight

t

UKBI-50F

190*130*570

12.5

5

33

20

Air-cooled

28

16

2100*1650*1450

7

220*130*585

15

3940*1650*1700

214*130*860

20

3940*1650*1700

260*130*860

1525

3940*1650*1700

UKBI-75F

190*130*570

12.5

7.5

Air-cooled/water

cooled/Evaporative

Type

42

24

3940*1750*1850

7.5

220*130*570

15

3940*1750*1850

214*130*585

20

3940*1750*1850

260*130*860

25

3940*1750*2200

UKBI-100F

220*130*585

15

10

56

32

3940*1750*2200

8

214*130*860

20

3940*1750*2200

260*130*860

25

3940*1750*2200

480*140*880

50

3940*1750*2200