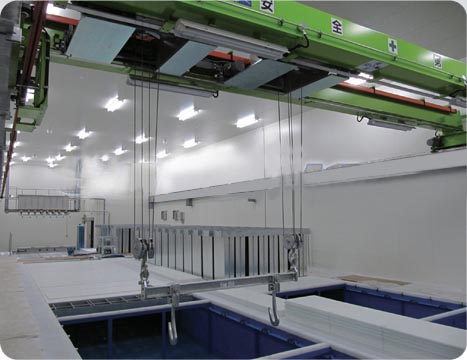 Block ice application
● Ice factory at ports or docks.
● Fresh preservation and cooling of aquatic products
● Fresh preservation of aquatic products and foods during line haul
● Temperature reduction and cooling in specific fields
● Ice sculpture
● Edible ice
Block ice features:
● High in density, hard and not easy to melt
● It can be used to make block ice in different colors
● Different weight such as 12.5kg,20kg,25kg,50kgkg,75kg,100kg and 125kg for your option.
● Clean and sanitary, without impurities
● Low temperature and -3℃ is reachable
● It can be processed into ball shape edible ice or small block ice
-Block Ice Machine Features:
● Stable and energy-saving design
● Unique and excellent evaporator technique
● Simple and convenient maintenance
● Experienced team of installation and commissioning
① Appropriative lifting device
② Reliable refrigeration unit
③ Simple operation of ice dotting device
Work conditions:
● All-in-one refrigeration systems.
● Specially-designed evaporator, with efficient thermal conductivity.
● Clean and sanitary block ice, suitable for human consumption.
● The refrigerant can be used globally, in line with national and international standards.
● Dry-type expansion reduces refrigerant quantity, makes the unit compact and safe and lessen breakdowns.
● PLC controls and self-protects from breakdowns during water filling, ice making and harvesting.
● Production capacity: O.5~1OT/24hrs, with block ice weight of 5kg, 10kg, 15kg, 20kg and 25kg.
● Shortest installation and commissioning time, loved by the users.
● Movable, transportable with truck and ship.
Seawater Block Ice Machine Models and Specification

Model

UKBI-25B

UKBI-50B

UKBI-75B

UKBI-100B

UKBI-200B

UKBI-200B

Production(t/d)

2.5

5

7.5

10

20

20

Containerized

20ft

40ft

40ft

40ft/40ft+20ft

2x40ft+1x20ft

2x40ft+2x20ft

Block ice weight

12.5/20/25/50

12.5/20/25

12.5/20/25/50

Ambient Temp.(℃)

33

Water Temp.(℃)

20

Water supply pressure(kpa)

150-500

Evaporating Temp.(℃)

10-20

Condensing Temp.(℃)

38-43

Necessary Refrigeration Capacity(kw)

17.5

35

52.5

70

140

140

Compressor Rated power(hp)

10

25

40

50/50+ice storage Bin4

100

100+ice storage Bin8

Ice storage bin capacity(T)

10

20

Standard specifications of Ice Bin

Cold-rolled steel plate Q235-A,or stainless steel plate SUS304

Block ice 12.5kg:160*130*180

Block ice 20kg:270*130*800

Block ice 25kg:320*130*800

Block ice 50kg:460*180*800

Block ice 75kg:480*220*900

Block ice 100kg:500*270*900

Block ice 125kg:550*310*900

Compressor brand:standard with Bitzer or Carrier (Customized as request)

Standard refrigerant is CFC gas suck as R22R404A,R507A,R407C,etc.,which should be designated when placing order,Regarding detailed parameters of block ice machine from 30T to 120T,please consult with our professionals.